Current Issue
Vol. 22 No. 1 (2023): Schools as securitised spaces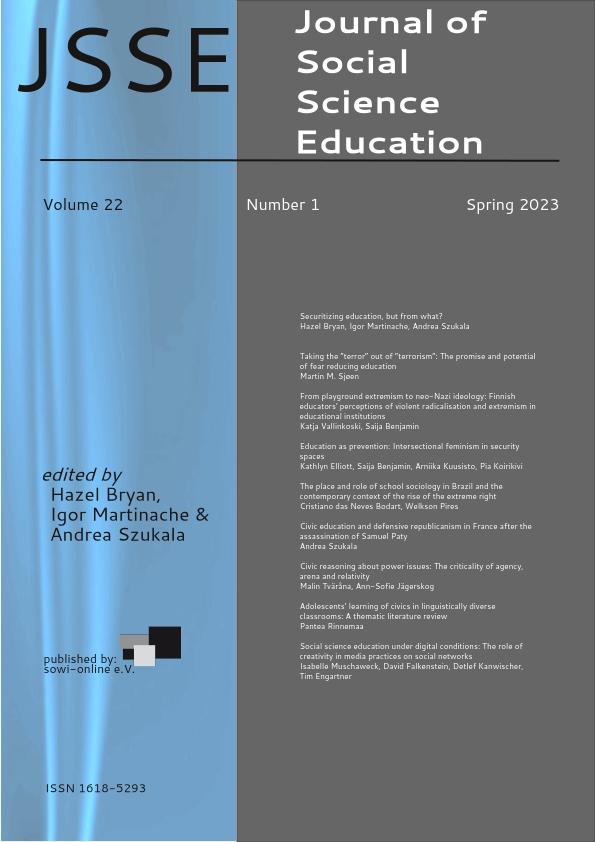 Editors of this Issue
The securitization of civic education and schooling is currently a major policy focus in the context of securitization, of democratic transformations and radicalization. In this issue of JSSE, we explore the state of the governance of security in schools, the technologies and justifications employed in security enactment, and the implications of this for young people and pedagogues in contemporary democracies and societies.  The articles in this issue draw on a range of theoretical and empirical approaches to shed light on the challenges of a democratic civic education that does not succumb to the temptations of the securitization claim.
View All Issues
Current News
New Issue:
We are very happy to inform you about our new issue of the Journal of Social Science Education (JSSE): 
JSSE 1-2023 edited by Hazel Bryan, Igor Martinache and Andrea Szukala.

Calls for Papers

Most Viewed Papers in 2022

Open and Permanent Call for Papers

The editorial team of the Journal of Social Science Education kindly invites authors to submit papers. The JSSE is an international peer-reviewed scientific journal for research on teaching and learning in the broad field of social science education.




Country Reports 

Focus and Scope

Country reports aim to facilitate researchers' access to colleagues, journals, professional associations and current educational polices in the respective countries.

 
 
 
 
 
 
 

JSSE is indexed in

JSSE is listed as A Level Journal at:

Our sponsors are: